Prescription Refill Request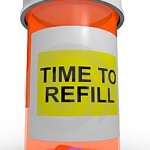 We are happy to accommodate prescription refill requests via phone at 256-382-0070.  We usually are able to process refill requests within 48-72 hours.  If you need the refill sooner than that, please be sure to mention the urgency of your request to the staff.
It is our policy not to respond to automatic refill requests generated by pharmacies and received in our office by e-mail or fax.   All requests for medication refills must come directly from the patient.